Make your own Coronavirus poster with special design icons to create effective messages for your business. The icons are compatible with any design software and they can easily be resized and adapted depending on their purpose.
Once with the Covid-19 pandemic outbreak, countless companies across various industries were obliged by law or they proactively proceeded in warning their clients upon the new rules, as instructed by the government.
Hospitals, restaurants, any public office or social gathering spots needed to provide the larger audience with informative marketing materials such as posters, handouts, stickers and infographics to make them aware of the new restrictive regulations. Awareness is key in reducing the risk of virus-spreading.
Here is a 50 Coronavirus related icons pack to help you keep your business in line with this new global context. Either you need instructions on how to properly sanitize the hands, how to wear a mask to be safe or what one should do to prevent the virus transmission and infection, it is important to use the most representative images to prompt immediate action in all people exposed to the information.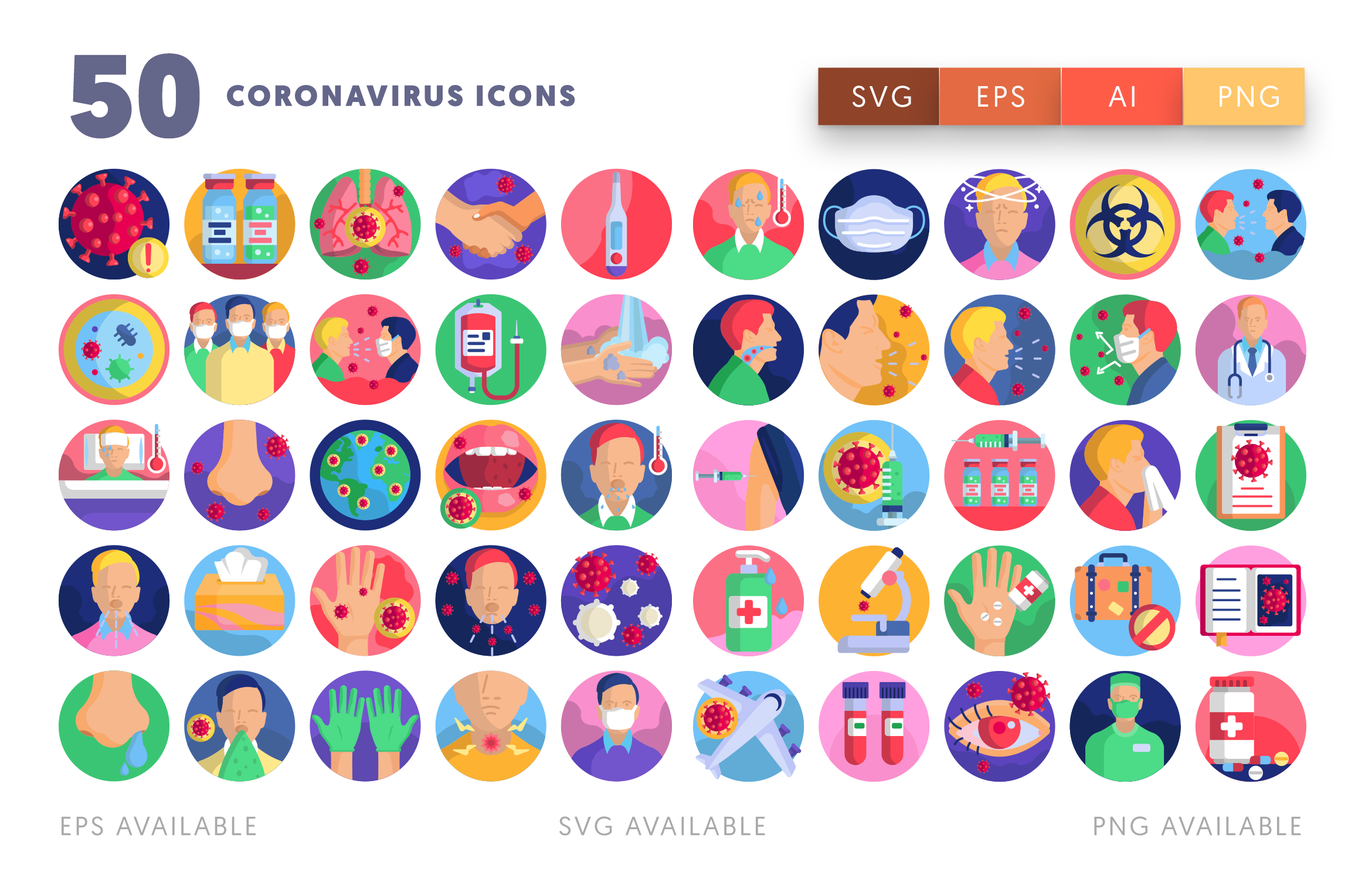 The Coronavirus icons pack includes 50 relevant images to help you top this precaution game that all businesses regardless of the size have found themselves into.
– Sanitization products, bottles
– Interaction between people, talking and handshakes
– Mask wearing
– Virus droplets and transmission
– Nose dripping
– Gloves wearing
– Restrictive measures
– Coronavirus disease symptoms
– Doctors
There are more than 13M confirmed Covid-19 cases worldwide, from which over 7 million infected people have recovered. There are over 570k reported Coronavirus deaths in July, 2020.
The huge impact the pandemic had on the economy prompted companies to take immediate actions in order to reduce the risk of spreading the infection. Among the mandatory measures taken by most brands and merchants, here are the most frequently encountered:
– Installing disinfecting dispensers in the workplace or public spaces
– Clean desk or working area policy
– The social distancing rule of at least 1.5 meters
– Avoiding unnecessary contact at the reception area
– Avoiding hard money payments, credit cards recommended instead
– Set up a preventive plan if someone gets infected. All facilities are recommended to gather data about their clients in order to announce them upon emergencies and make it easier for the authorities to spot and isolate Coronavirus cases.
Steps to create a Coronavirus poster for restaurants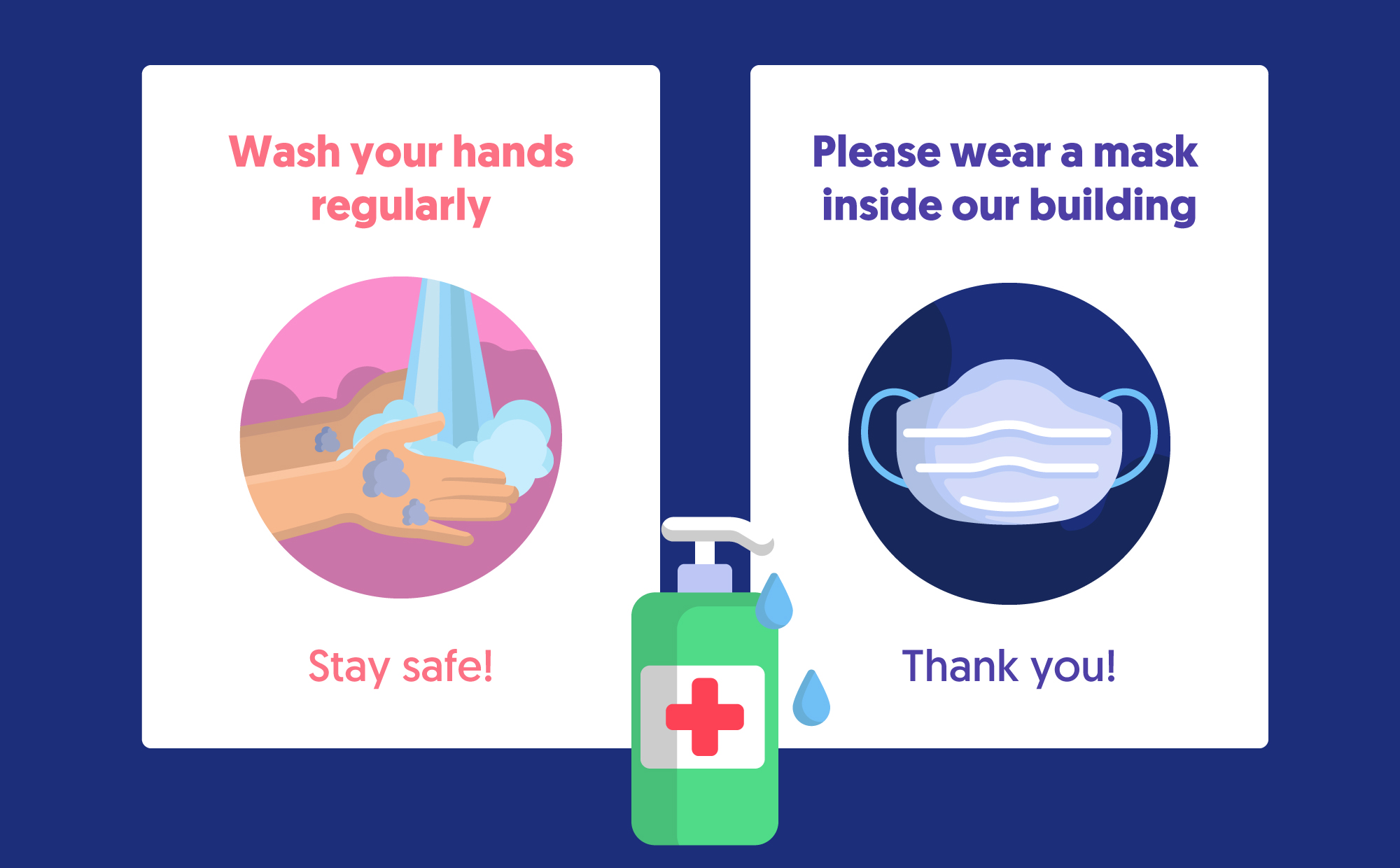 Signal the mask wearing rule while walking around the facility by using an icon of a person with a mask
Inform your customers to immediately wash their hands once in the facility by using a hand washing icon. Make sure to specify details such as the importance of at least 20 seconds thorough washing considering the general public recommendations
Provide indications on where the hand sanitizer is across the local by using a hand sanitizer dispenser icon
Instruct the clients to confidently use the sanitizing wipes through a napkin pack icon.
Get the Coronavirus icons pack and create your own Coronavirus prevention poster – share it on your social networks and website, print it out and display it in the most visible area of your business, be it an office, a restaurant, a school or a clinic. Keep yourself, your clients and your public safe!
Download Coronavirus Icons for your designs