Download 50 Country Flags Icons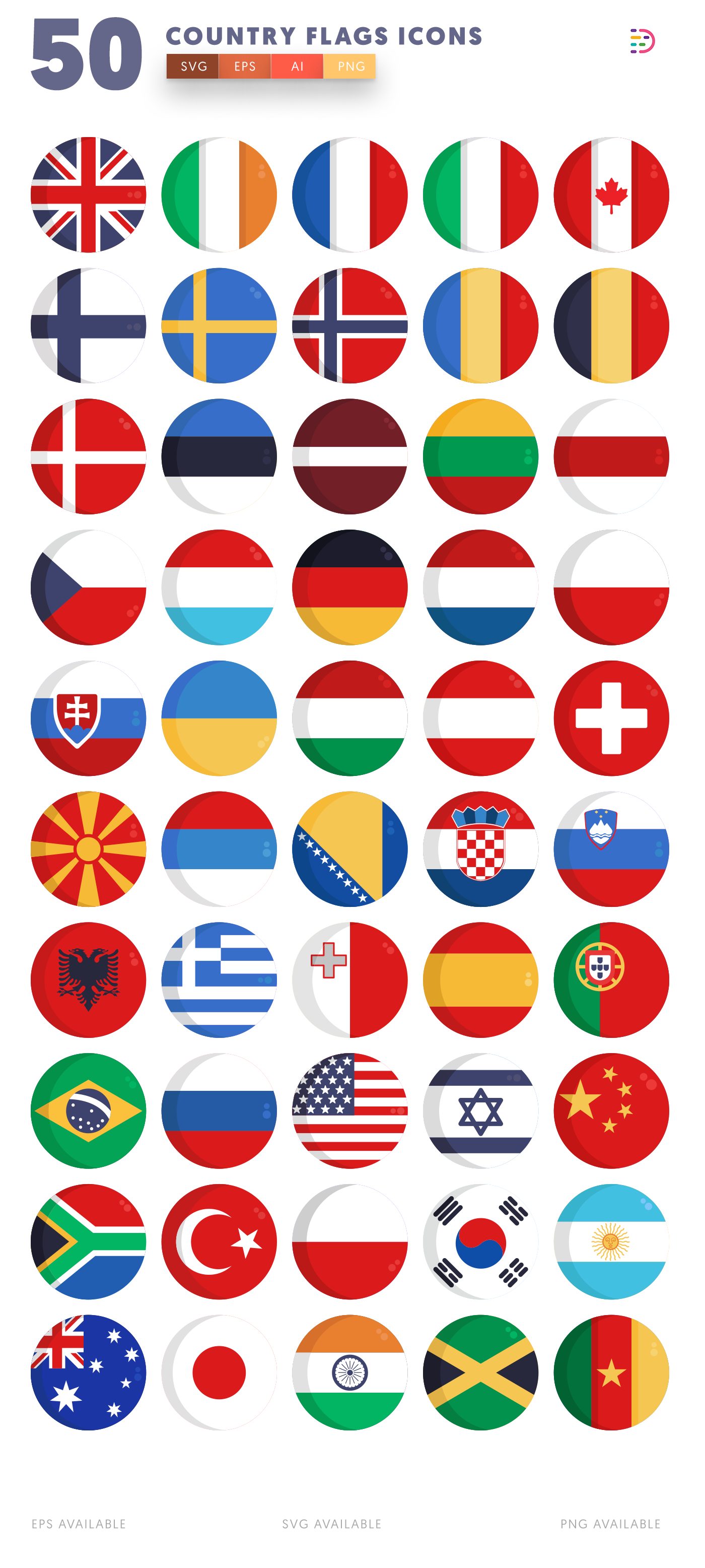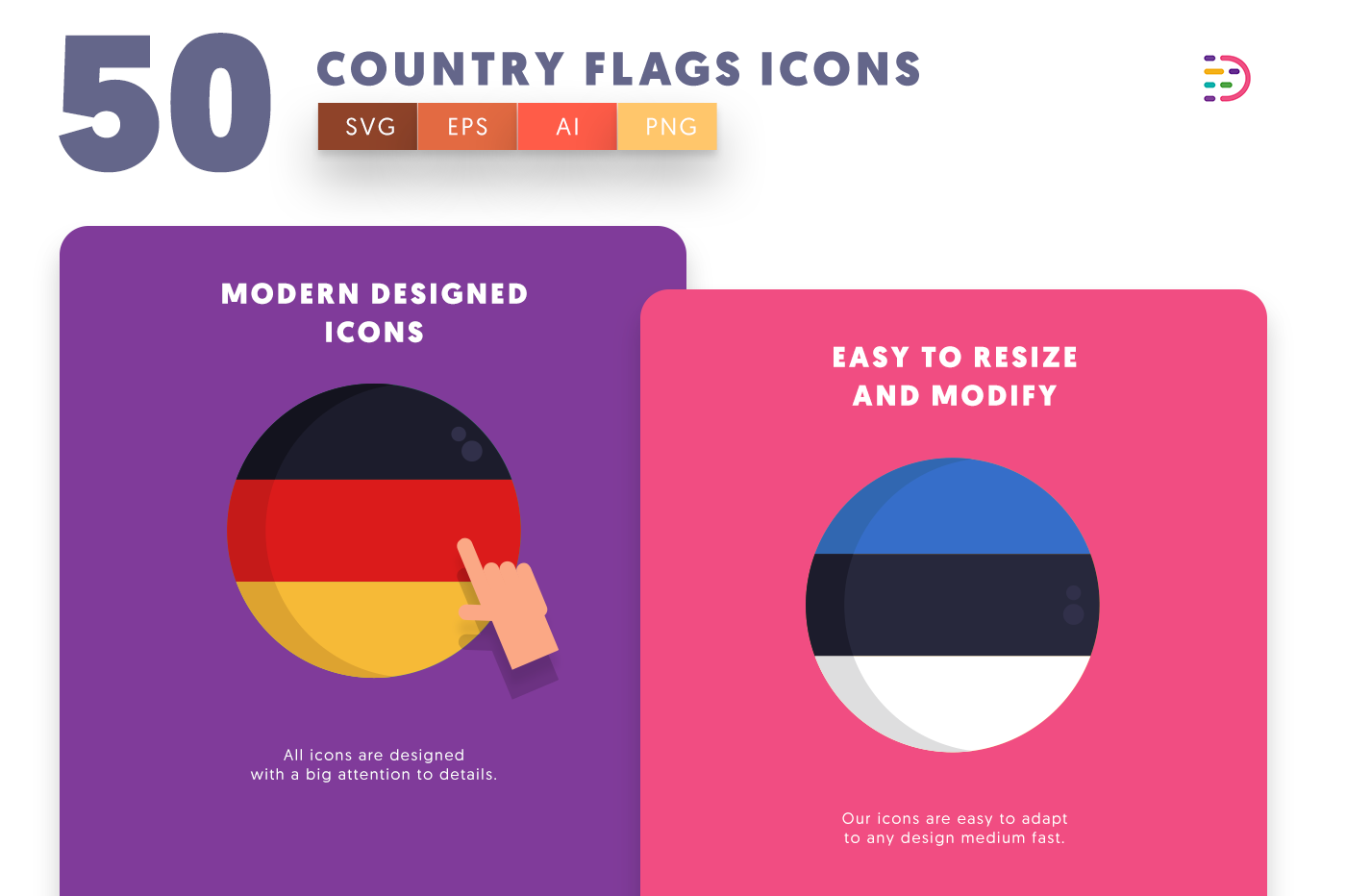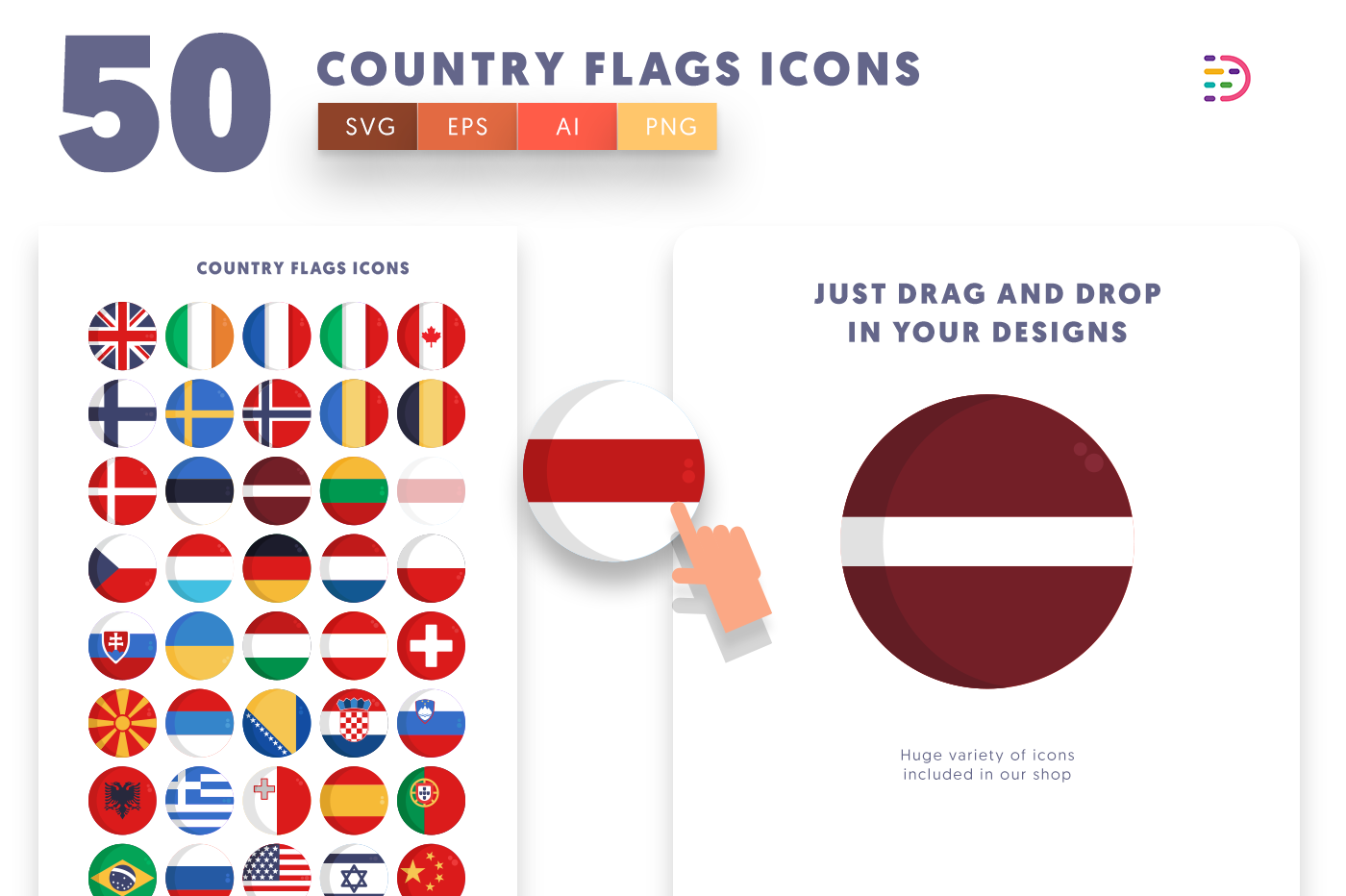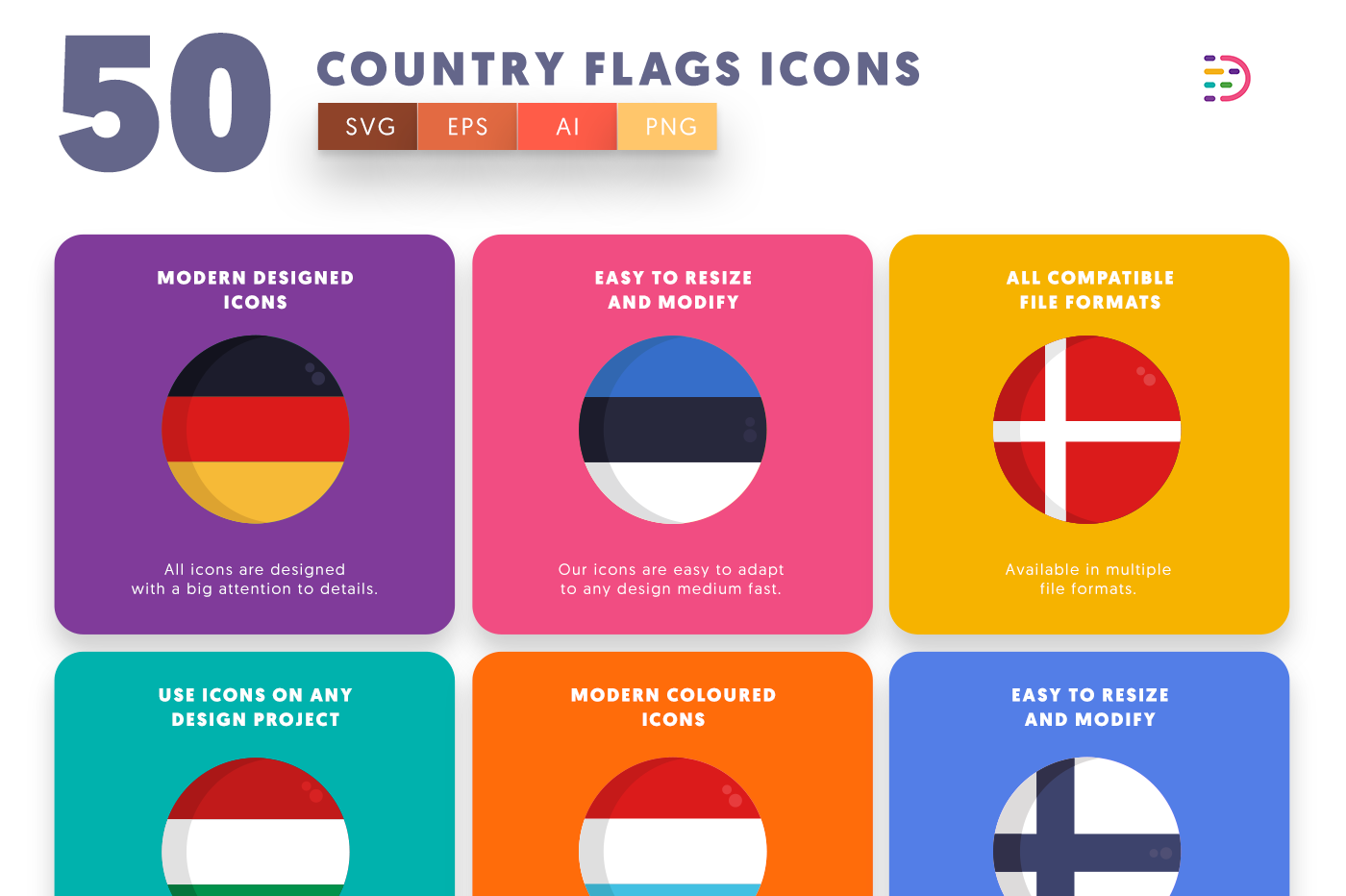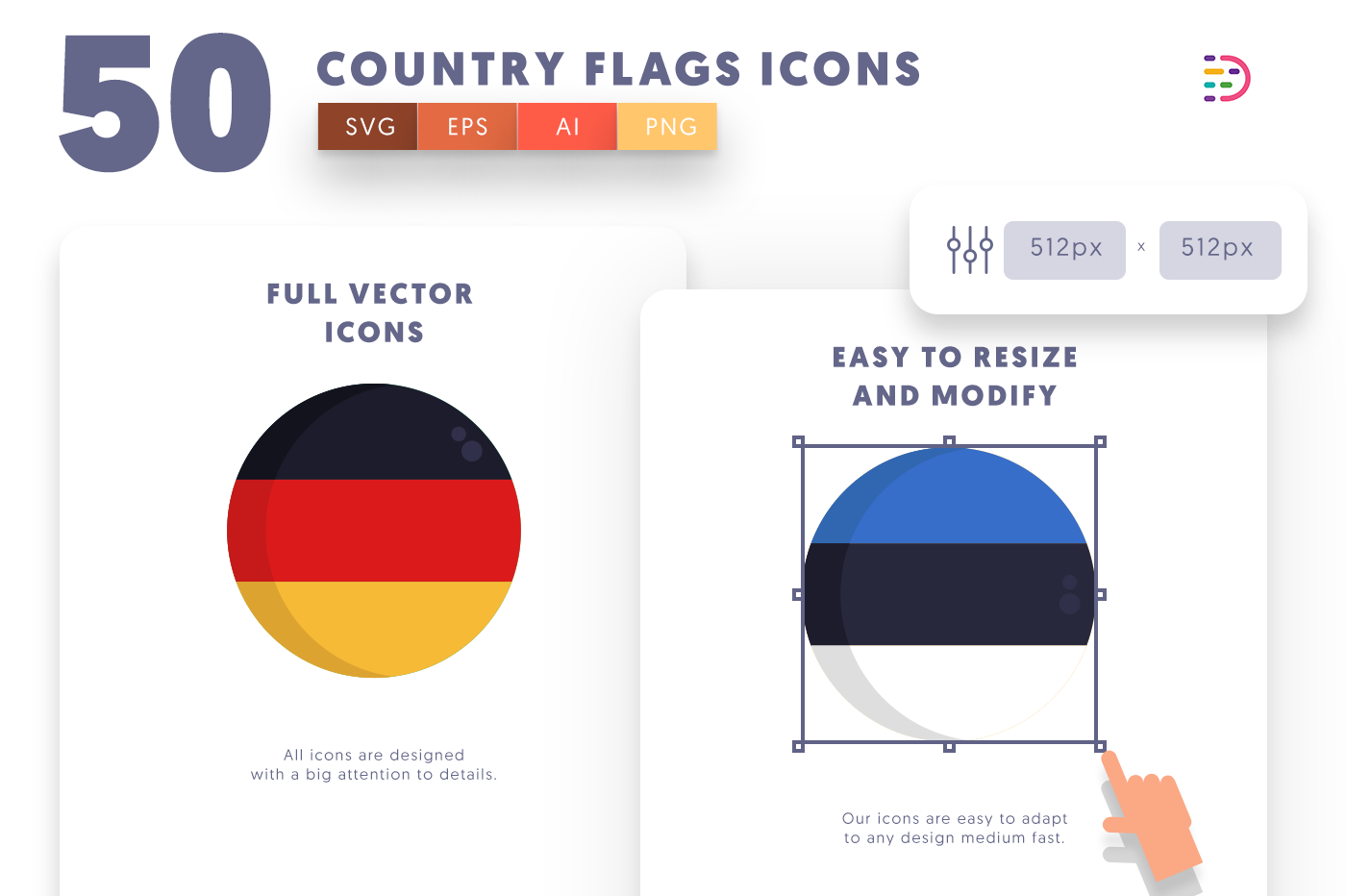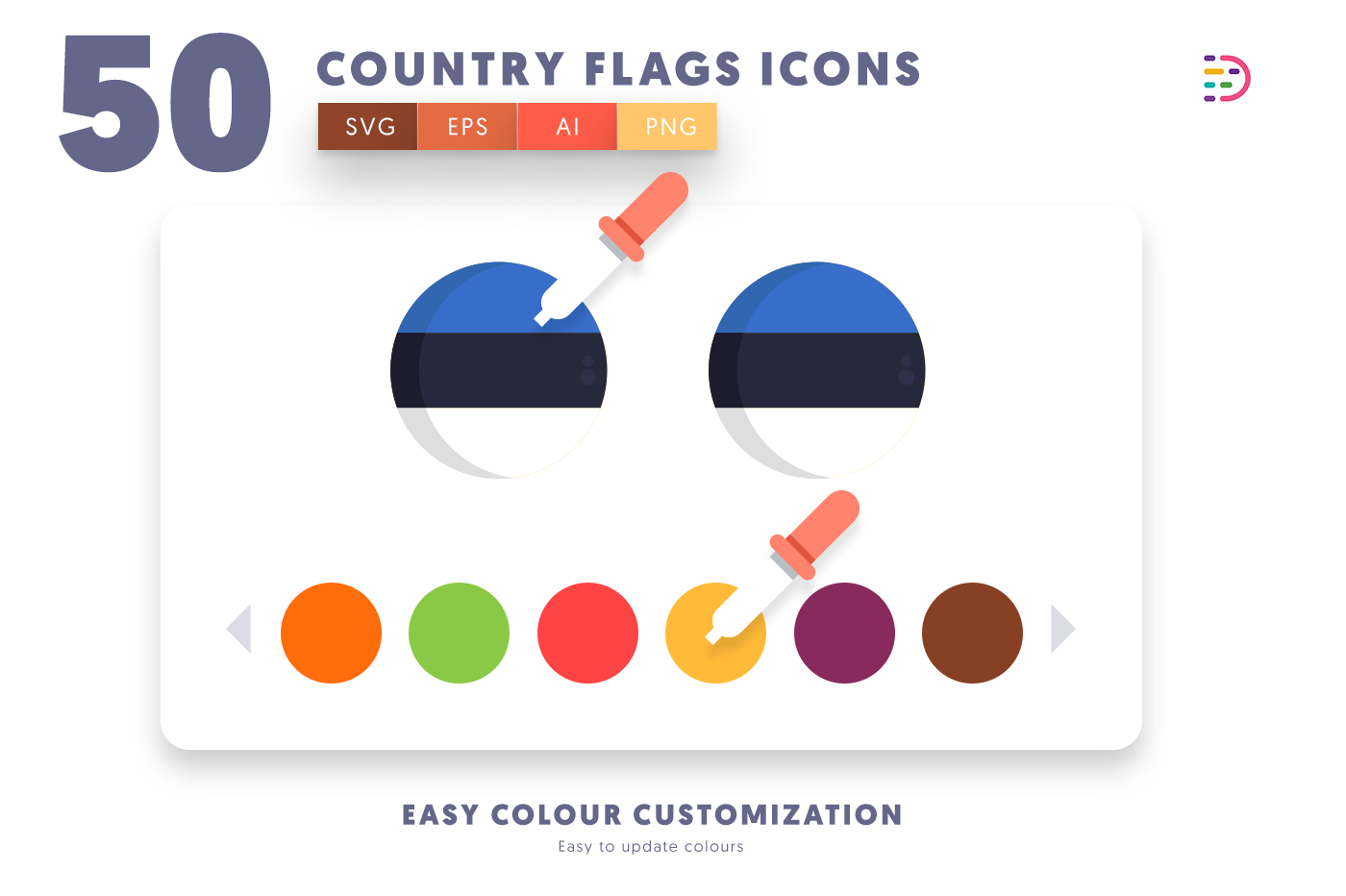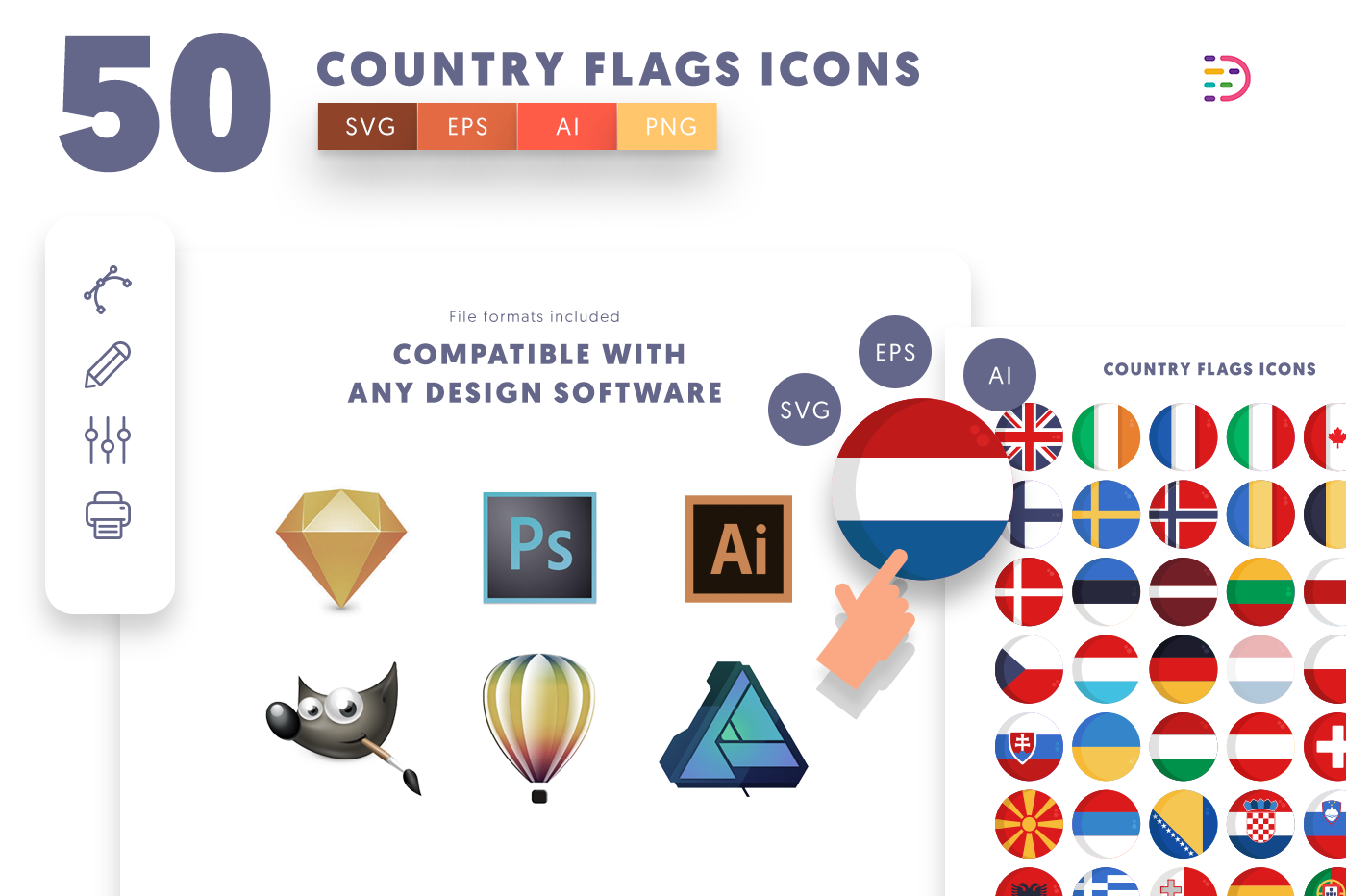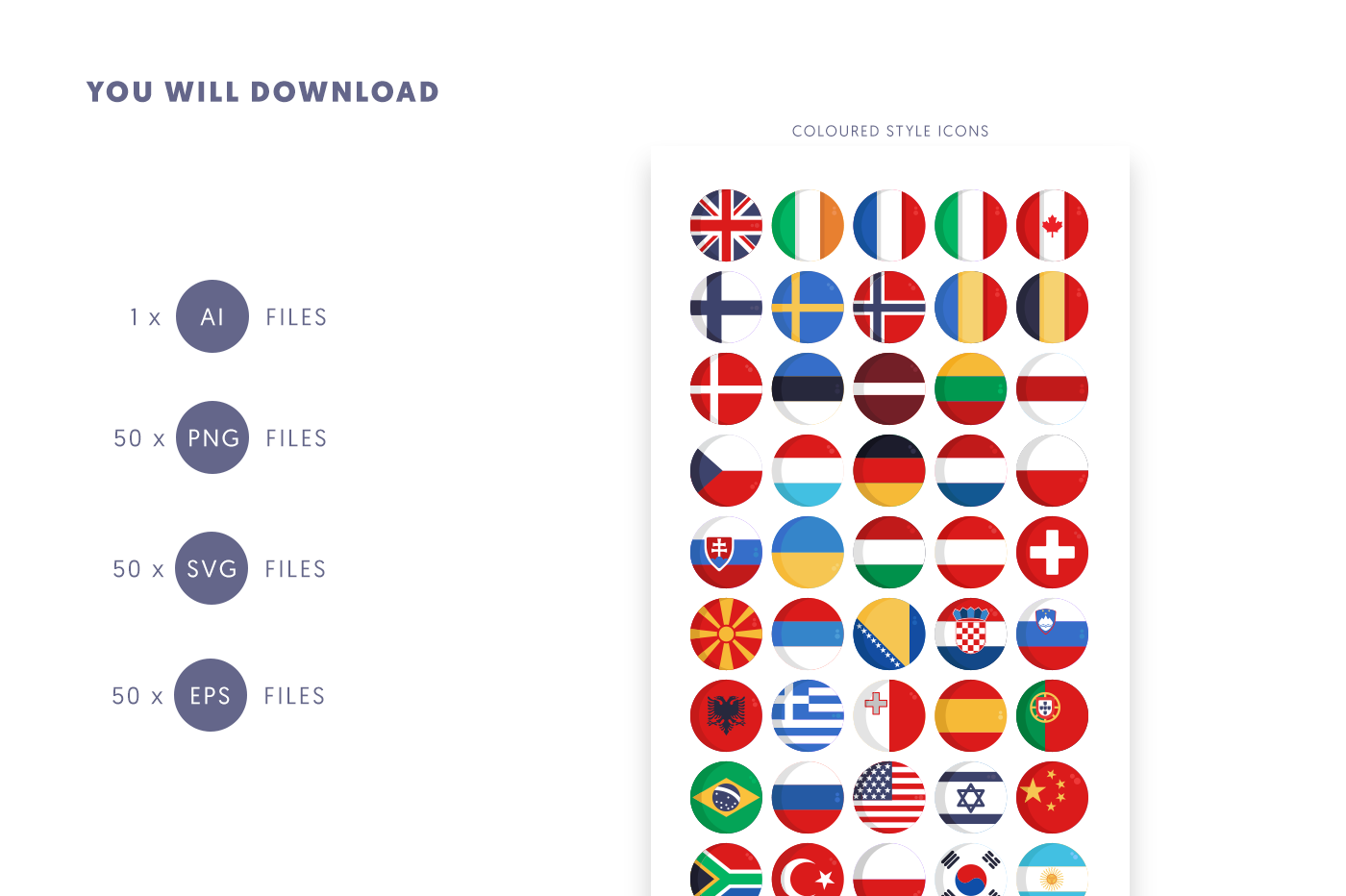 You will download:
- 1 Ai file easy to customize in Illustrator
- you will be able to change text, color, size (Suitable for printing and all image programs).
- 1 EPS file easy to customize in any design program.
- 1 SVG file easy open in Sketch, Inkscape or any other vector editing program.
- 512 x 512 px icons easy to resize and adapt to your designs
- 50 EPS files separate icons
- 50 SVG files separate icons
- 50 PNG files separate icons
---
50 Country Flags Icons set includes:
Algeria flag, Armenia flag, Australia flag, Austria flag, Azerbaijan flag, Bahamas flag, Bangladesh flag, Belgium flag, Benin flag, Bolivia flag, Bosnia and Herzegovina flag, Botswana flag, Bulgaria flag, Burundi flag, Cameroon flag, Canada flag, Cape Verde flag, Chad flag, Chile flag, China flag, Colombia flag, Congo (Democratic Republic) flag, Congo (Republic of the) flag, Cote d' Ivoire flag, Cuba flag, Czech Republic flag, Denmark flag, Djibouti flag, Estonia flag, Finland flag, France flag, Gabon flag, Gambia flag, Georgia flag, Germany flag, Ghana flag, Greece flag, Guinea flag, Guinea-Bisseau flag, Guyana flag, Honduras flag, Hungary flag, Iceland flag, Indonesia flag, Ireland flag, Israel flag, Italy flag, Jamaica flag, Japan flag, Jordan flag, Korea (North), Kuwait flag, Laos flag, Latvia flag, Liberia flag, Libya flag, Lithuania flag, Luxembourg flag, Macedonia flag, Madagascar flag, Malaysia flag, Maldives flag, Mali flag, Mauritania flag, Mauritius flag, Micronesia flag, Monaco flag, Morocco flag, Myanmar flag, Namibia flag, Nauru flag, Netherlands flag, New Zealand flag, Niger flag, Nigeria flag, Norway flag, Pakistan flag, Palau flag, Palestine flag, Panama flag, Poland flag, Romania flag, Russian Federation flag, Saint Kitts and Nevis flag, Samoa flag, Senegal flag, Seychelles flag, Singapore flag, Solomon Islands flag, Somalia flag, South Africa flag, Sudan flag, Sweden flag, Switzerland flag, Syria flag, Taiwan flag, Tanzania flag, Thailand flag, Togo flag, Trinidad and Tobago flag, Tunisia flag, Turkey flag, Ukraine flag, United Arab Emirates flag, United Kingdom flag, United States flag, Venezuela flag, Vietnam flag, Yemen flag.
Why Download from our store?
We guarantee you'll be completely satisfied with this pack.
Our commitment to quality ensures you get the best you possibly can, every time. Whether you're trying to impress a client or attract more views, you can be sure you'll get the job done.
All our icons are 100% vector, so you could freely customize and scale the icons.
---
Real Customer Reviews: ⭐ ⭐ ⭐ ⭐ ⭐
"Beautifully done and all so useful! Thank you very much :)"
Looking for more icons? You can check out some of our new icons at our graphics store!
https://www.dighital.com
Want custom icons designs?
Send us a request
https://dighital.com/custom-icon-designs/
What do you think about this icon set? Your like & comment are highly appreciated 😉